21 Rosemary Lane
is this wonderful blog that I stumbled upon several months ago. They have the most beautiful imagery and their site makes your feel comforted and inspired. This month they are having a wonderful giveaway...
Click on the link below to enter the contest!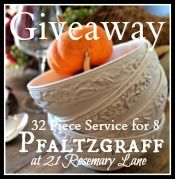 The contest is open until Sunday, November 18th! Want to know more about the contest? Go to 21 Rosemary Lane's blog and check out the details. While you're at it sign up to follow their blog. It's well worth it!
My family has a long history of collecting Pfaltzgraff. My pattern was Folk Art and my mother's was Yorktown. She loved the simple, classic colonial style, while I favored the warmth and welcoming comfort of Folk Art's pattern. The thing about Pfaltzgraff is that once you start collecting you'll be hooked for a lifetime.
Do you collect Pfaltzgraff? What is your favorite pattern? Drop me a comment and let me know!